About Värmland
So green, so vast and so empty. That is the feeling you will experience each time you enjoy Swedish nature. So much land and so few people is something most European countries do not have anymore. The majority of Swedish people live in the southern part of the country, which of course has everything to do with the fact that the days are longer here.
In the north of the country the days are much shorter. So the further north you go, the fewer people you will encounter. Värmland is situated approximately halfway, just north of the Oslo – Stockholm line and with so few people nature can run its own course. Värmland is a rural province, even for Swedish standards. Countryside, for Stockholm standards. Agricultural too, but in an industry that is less obvious for Western Europe: forestry. Indeed huge areas of land are used for commercial wood production. All this greenery alternates with lots of water. Every valley has a river and behind every hill is a lake. From extremely large to charmingly small, everywhere in the province you will find water. The Värmlanders live their lives outside and their work mostly involves nature in some way and of course they live in rural areas. They work for example as foresters or as hosts or hostesses in the outdoor sports industry. From moose safaris to rafting, from all possible alpine sports to canoeing, it's all possible here.
So much space, so much nature, so outdoor-minded, so therefore lots of possibilities for walking tours? Well, there is a bit of a disappointment here. Yes, there is certainly no lack of space, but the problem is a lack of clearly described walking tours. There are shorter walks but these are not easy to find and you have to have good knowledge of the Swedish language in order to understand where exactly you can find them. However, what is perhaps an even greater drawback is the fact that nowhere is it written down how you should walk, the level of difficulty, what problems you may encounter and how long it will take to reach your destination. Most routes are marked, but that is about it. The rest you will have to find out for yourself.
The guide
We have searched for the best and most beautiful walks, spread out across the province. The 22 walks is this guide vary in length from 5.5 to over 20 km, so that there is something for everyone. The walks are all existing routes, mostly marked but which have not been plotted by us. We did, however, walk, assess and describe them and we have also visualized and mapped them. All you have to do is put on your walking boots and discover the beauty of Värmland.
Our guides are available in bookstores and at online retailers.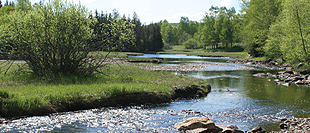 Updates
Changes in the routes or bottlenecks >>.
Download a walk
Here you find one of the walks from our guide. (Acrobat Reader required)
Where are the walks